ame (art music experiment) - boundarymind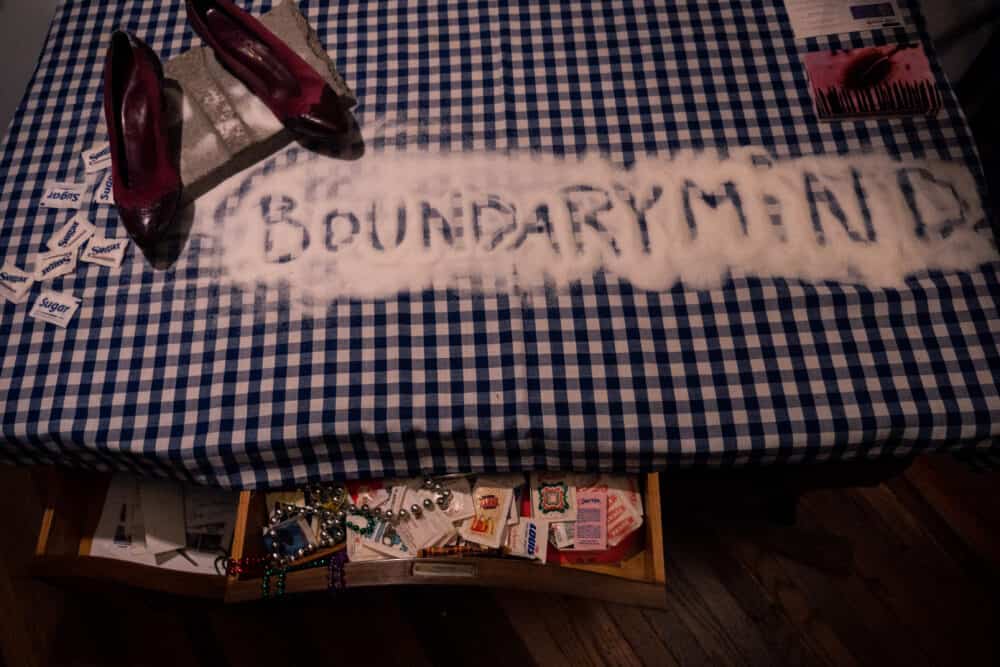 boundarymind
December 10, 2022
ame (art music experiment)
Unit 29/30 Alexandra Piazza
Huddesfield, UK

Concept, composition & performance – Linda Jankowska and Katherine Young
Video – Kera MacKenzie
Weaving – Molly Roth Scranton

boundarymind is a long-distance collaboration by Linda Jankowska and Katherine Young. The electroacoustic sound piece and aggregating multi-media installation explores and transgresses the geographical, cultural, psychological, and musical boundaries that impact how we share—and modulate—our past, present, and future selves through collection and interaction with our material world. Every-day objects with sentimental meaning and memory-evoking power have been shared—recorded and remixed, filmed and animated, collected and woven into a three-dimensional tapestry. The project premiered in June 2022 in Chicago at 6018 North as a site-specific multi-room installation, with the support of Experimental Sound Studio.

For ame, Katie and Linda will rework the piece to suit the space and hopefully discover new dimension to boundarymind's expression. The community recording events are a way of sharing the process of listening to memorable objects with other people. The audience is invited to contribute their sounds and stories to boundarymind's sound archive with the intention of weaving them into future live iterations of the piece as a shared meaning-making practice.

AME EVENT:
5-6 PM – community recording event
6-7:30 PM – bring your own food, social gathering
7:30 PM – live performance

Boundarymind aka Linda Jankowska and Katherine Young is a composer-performer collaborative project spanning nine years over four countries. Challenging and expanding the concept of collaboration, blurring the boundaries of disciplines within the contemporary classical field, and questioning the notion of single authorship, their co-compositional practice disrupts the focus on score as primary goal through a feminist lens of non-hierarchical creation.