Links Hall - Live To Tape: Artist Television Festival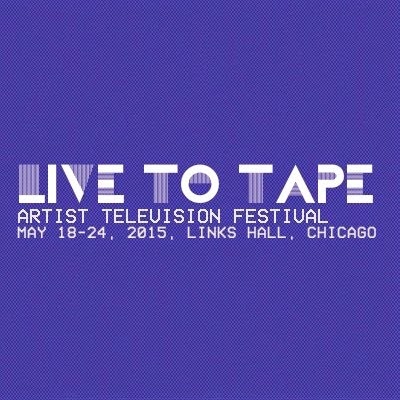 Live To Tape: Artist Television Festival
May 18-24, 2015
Links Hall
3111 N Western Ave.
Chicago, IL 60618

Links Hall is proud to present Live to Tape Artist Television Festival, a week-long - of performances and screenings of - May 18-24, curated by Links Hall Artistic Associate Jesse Malmed. Seven days of live talk shows, historical and contemporary moving image works and commissioned performances, television-as object, as concept, as antagonist, as material, as form, as inspiration-is unscrambled and reconceived. By turns hilarious and heartfelt, wonky and wild.

Live to Tape gives us a glimpse into the futures and pasts of artist television. Over the course of the festival, Live to Tape will present a wide variety of performances and screenings organized into eight different programs. The eight different programs are Aesthletics, The Sitcom Set, Dial-A-Soap, Ecstatic Static, No News, Make Me Psychic, Cable Excess and Sketch Book. Each program will consist of a video screening followed by a talk show.
---
Live To Tape: No News
Friday, May 22, 2015, 7pm

NEWS is supposed to come from the four cardinal directions. The constituents ring in, the weather is reported with real live rain, the whole thing starts and ends with names. All you have to do is act naturally. Camera 1, Camera 2, Camera 1, Camera 2, Camera 3, Camera 3, the world arrives in starts and stanzas. Every house is filled with representatives.

Featured Artists:
Kera MacKenzie, Andrew Mausert-Mooney & Nate Whelden - Space Pursues Them
Tyrone Davies - At the Commercial Break She Started Screaming
Videofreex - Video Games
Videofreex - Taping of Video Games (excerpt)
Ximena Cuevas - Tombola
Jesse McLean - Somewhere Only We Know
Damian Lebiedzinski - Snowball Diatribe
Lori Felker - Broken News
Shehrezad Maher - Dimensions of a Fish
Andrew Filippone Jr.- 'Charlie Rose' by Samuel Beckett
Chris Little - Life During Wartime is a song by the Talking Heads
Marisa Williamson - Talk Show

Tickets are $10/$12
Festival Passes are: $35 online ($40 at the door)