Museum of Contemporary Photography - Video Playlist: Water or Escape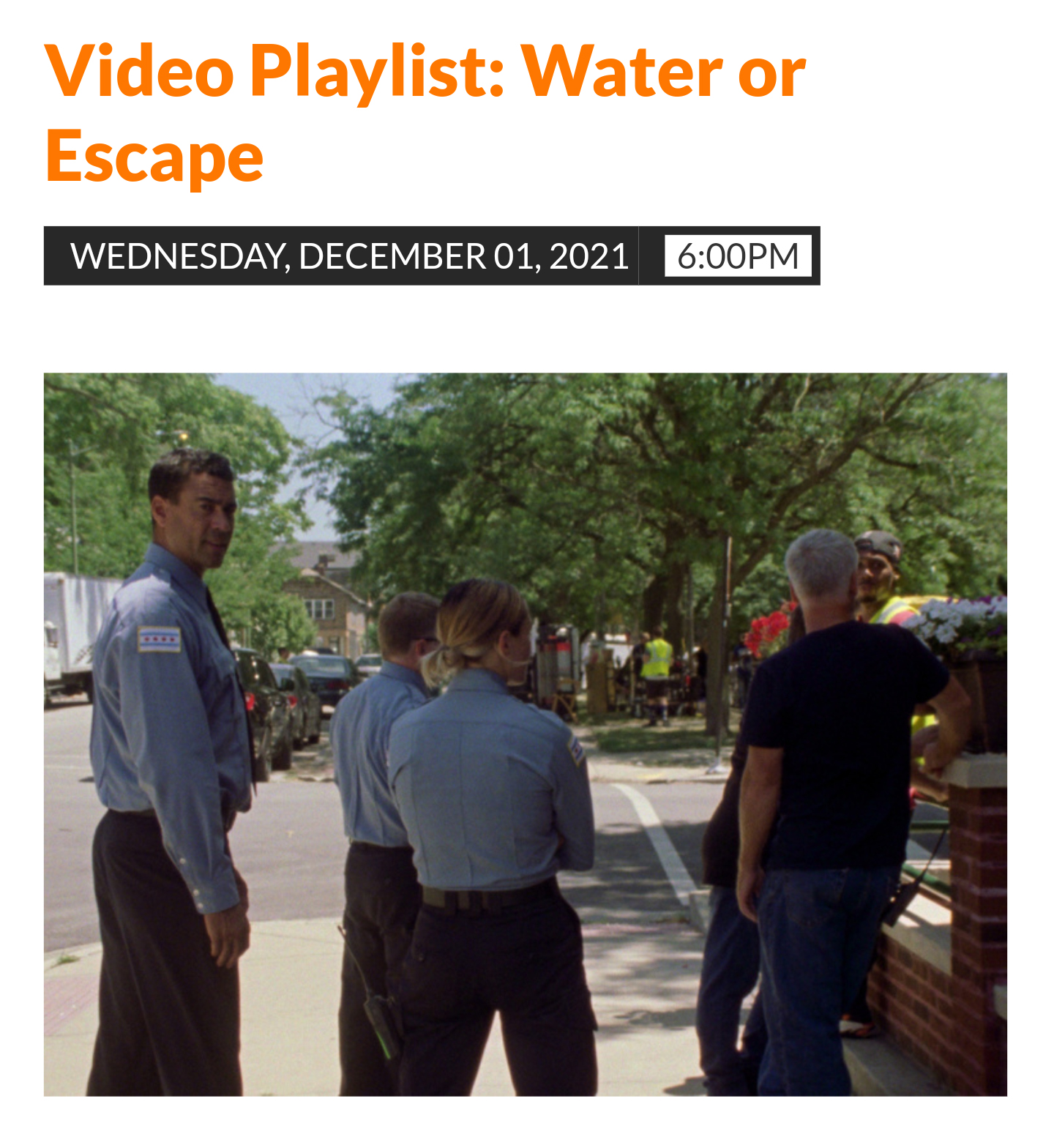 Video Playlist: Water or Escape
December 1, 2021, 6pm
Museum of Contemporary Photography
Ferguson Theater
600 S Michigan Ave
Chicago, IL

Video Playlist: Water or Escape is programmed by artists Andrew Mausert-Mooney & Kera MacKenzie and presents their newest film Make A Distinction along with a short recorded performance from Bilal Sunni-Ali. In this program, Mausert-Mooney and MacKenzie take aim at American imperialism and its colluders. The occupation and development of land and the dominant culture's stories that serve to exploit, glorify, and perpetuate a system of violence and subjugation in American life. Mausert-Mooney and MacKenzie will be in attendance for a Q&A after the screening.

Using montage film form, Make a Distinction unearths the connections between the occupation and underdevelopment of land with the dominant culture's stories that exploit, glorify, and perpetuate a system of violence and subjugation in and outside U.S. daily life.

The program title, like the film's title, Make a Distinction, is borrowed from a quote by Illinois Black Panther Chairman Fred Hampton. "We don't need no culture except revolutionary culture. What we mean by that is a culture that will free you. You heard your Field Lieutenant talking about a fire in the room, didn't you? What you worry about when you got a fire in this room? You worry about water or escape. You don't worry about nothin' else. If you say "What's your culture during this fire?" "Water, that's my culture, Brother, that's my culture." Because culture's a thing that keeps you. "What's your politics?" Escape and water. "What's your education?" Escape and water." - Fred Hampton, "It's A Class Struggle Goddammit!" Speech delivered at Nothern Illinois University, November, 1969

PROGRAM:

Bilal Sunni-Ali performing Look For Me in the Whirlwind live at Burning Books, Buffalo, NY, 10 min, 2017.

BILAL SUNNI-ALI: Spirit of the Midnight Band. Functioning, practicing Muslim. Veteran member of the Black Panther Party for Self Defense. Conscious Citizen of Record-Republic of New Afrika. Amir (administrative head) Imam Jamil Action Network. FURAHA KUZALIWA (Happy Birthday) to my sister-comrade Akua Njeri Hampton. Widow of the assassinated Chairman Fred Hampton…mother of the Cub Chairman Fred Hampton JR. Chicago FREE 'EM ALL!

Make A Distinction, 16mm film transferred to digital video, color, sound, 62 min, 2021.